There are multiple factors we consider when engineering one of our HVAC mounting and roof access solutions. At Con-form Group, we have two types HVACR mounting systems which distribute loads in two completely different ways.
Purlin/Surface Mounted: Distributes loads evenly via purlins throughout the structure. (Penetration-free. Compliant with AS1170.4 and all relevant Australian Standards).
Rafter Mounted: Distributes loads through our proprietary stub columns to the rafters. (Ideal for retrofits and when purlin/surface mount is not an option. Also compliant with all relevant Australian Standards.)
Here's a snapshot of how the loads distribute… (slide the arrows from left to right)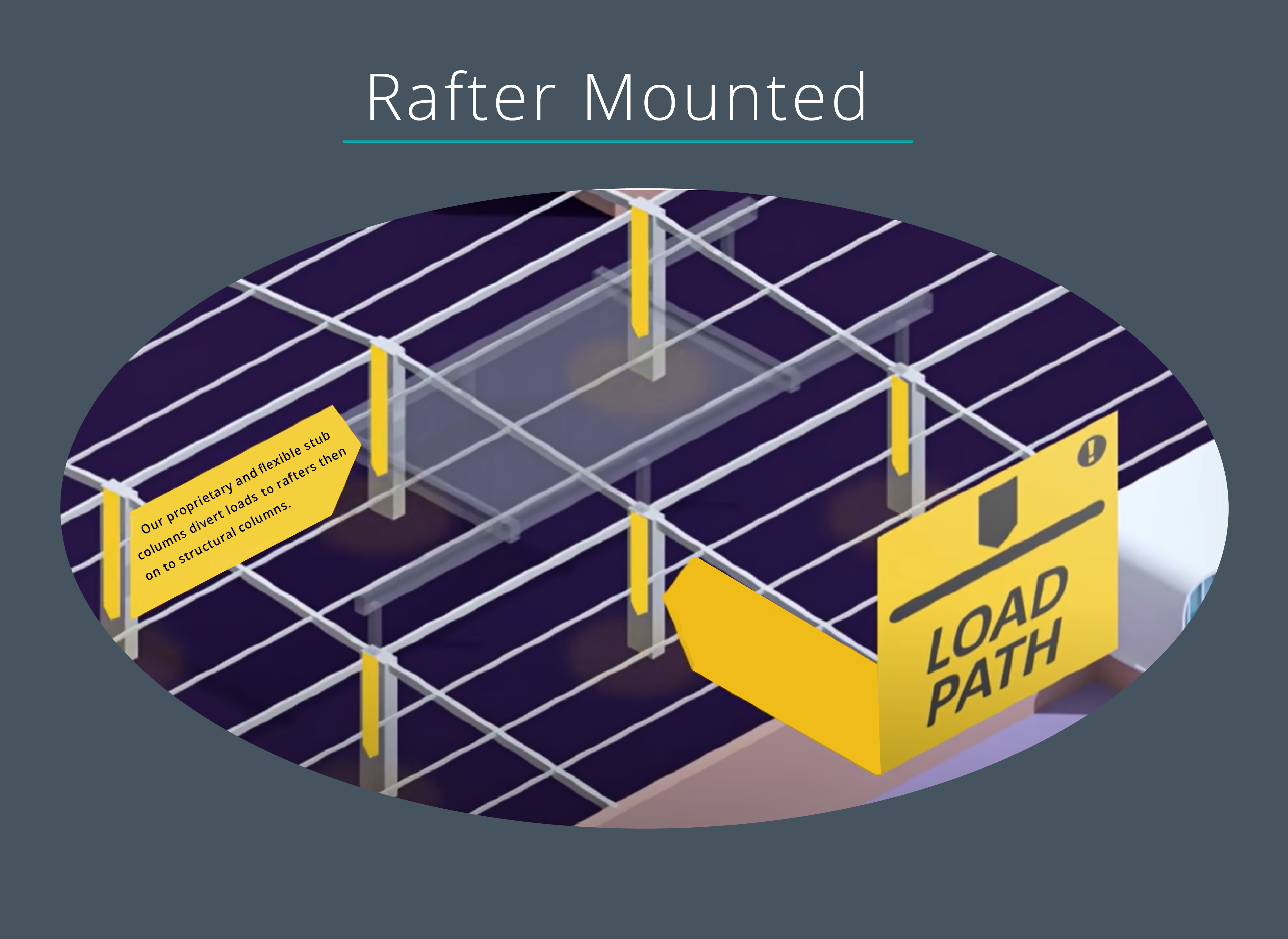 Here are the loads our Engineers consider when developing HVAC mounting, screening (acoustic & architectural) and roof access solutions:
Dead Loads: Action that is likely to act continuously and for which variations in magnitude with time are small. This is basically self weight of the platform including screen and doors
Live Loads: A variable action resulting from the intended use or occupancy of the structure. This is basically equipment weights, maintenance loads from people and tooling. For example:

Platform rated to = 2.5 kPa OR 5.0 kPa OR 1.1 kN
Walkway = 2.5 kPa OR 1.1 kN
Usual roof maintenance = 0.25 kPa OR 1.1 kN
Wind Loads: Action due to wind pressure on a solid or permeable wall AND/OR aerodynamic uplift force (solid floor). For example:

Wind region = A or B or C
Importance Level = 2
Terrain category = 2.5
Seismic Loads: Actions arising in the structure in response to an earthquake. For example:

Importance level = 2.0
Max. Height of the building = 12m
Under above condition, the platform shall be securely fixed to the main building by our standard penetration free clamping system.

Structure exceeds those criteria needs to be assessed individually.

Snow Loads: Actions due to snow that needs to be assessed if the platform has a solid floor like checker plate and is located in an alpine area.
For more information on our systems, please don't hesitate to contact our team here or call us on 1300 882 490 – our Engineers are happy to answer any questions you might have.