Mechanical Plant Platforms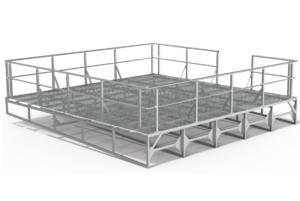 FOR METAL ROOFS (PURLIN MOUNT)
The EasyMechMR (formally Series 1 & 3) HVAC platform system, is a sleek & simple design – generations ahead of conventional structural steel platforms.
Its unique design distributes your load evenly, reducing the structural requirements of the roof. All components are backed by a 25 year warranty.
Engineered to a live load rating of 2.5kPa,

5.0kPa and greater.

AS 1657-2018

Super lightweight 16 kg / m2
Con-form Group's penetration free condenser decks are available in modular 600mm increment sizes to suit your needs. The lightweight design makes for easy assembly, reducing the need for additional structural requirements in your build.
Compatible with high pitched roofs and saw-toothed roofs. Added height allows for easy integration of equipment with raised ducts, airflow improves machine longevity and performance. This HVAC platform system m